Parents
A parent's involvement in their child's education is vital to their child's success. Parent support is greatly appreciated by the teachers and staff at Bookcliff Christian School and is essential to reducing staff costs and maintaining quality education at affordable prices. Thank you for utilizing our website to stay informed and to get involved.
Use our easy online Sign-ups to get involved in PTF activities!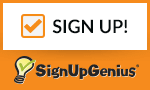 Parents, You are our greatest marketing tool!
National research shows that parents are the #1 way that other families learn about Christian schools and decide to join them. Our own Bookcliff Christian School surveys say that's true for us too. If you are grateful for the education & experience your child's receiving at Bookcliff Christian School, please spread the word.
• Tell your story to other young families making school decisions.
• Like & follow our facebook page.
• Post a positive review on our facebook page and other school search pages.
• Post your photos, and share your experiences and excitement on social media. Be sure to tag Bookcliff Christian School & Preschool if you put it on your own page.
• Ask the office for posters and flyers that you can share with your circles of influence: at work, at church, at work, etc.
• Promote our events and fundraisers.
• Attend Parent Teacher Fellowship meetings or send emails to share your own ideas!